Newswatch091117_HD1080_19.103_173.864
Irma is now downgraded to a tropical storm but not before taking at least 40 lives and carving a 500 mile path of destruction starting in the Caribbean, through the Florida Keys into south Florida and further north. Monday it stormed into northern Florida working its way into Georgia, Alabama. It had maximum sustained winds at 60 mph but unleashed more damage with storm surge flooding.
Irma hit Florida on Sunday as a powerful Category 4 hurricane, ripping off roofs, flooding streets and has now knocked out power to roughly 7 million homes and businesses.
"The forecast track takes the center then into Georgia tomorrow and ultimately with the system weakening, becoming a tropical depression by Tuesday," Ed Rappaport of the National Hurricane Center said.
But behind Irma was a trail of destruction.
Miami escaped Irma's center but was still hammered by flooding and high winds. Gusts approached 100 miles per hour.
City of Miami Emergency Management survey major flooding in the Brickell area. pic.twitter.com/mGpzvytSAy

— Miami Emergency Mgmt (@MiamiDEM) September 10, 2017
Winds were so strong in Miami that at least three construction cranes crashed into buildings.
The storm even produced some tornadoes.
And in cities across Southern Florida, a storm surge turned roads into rivers.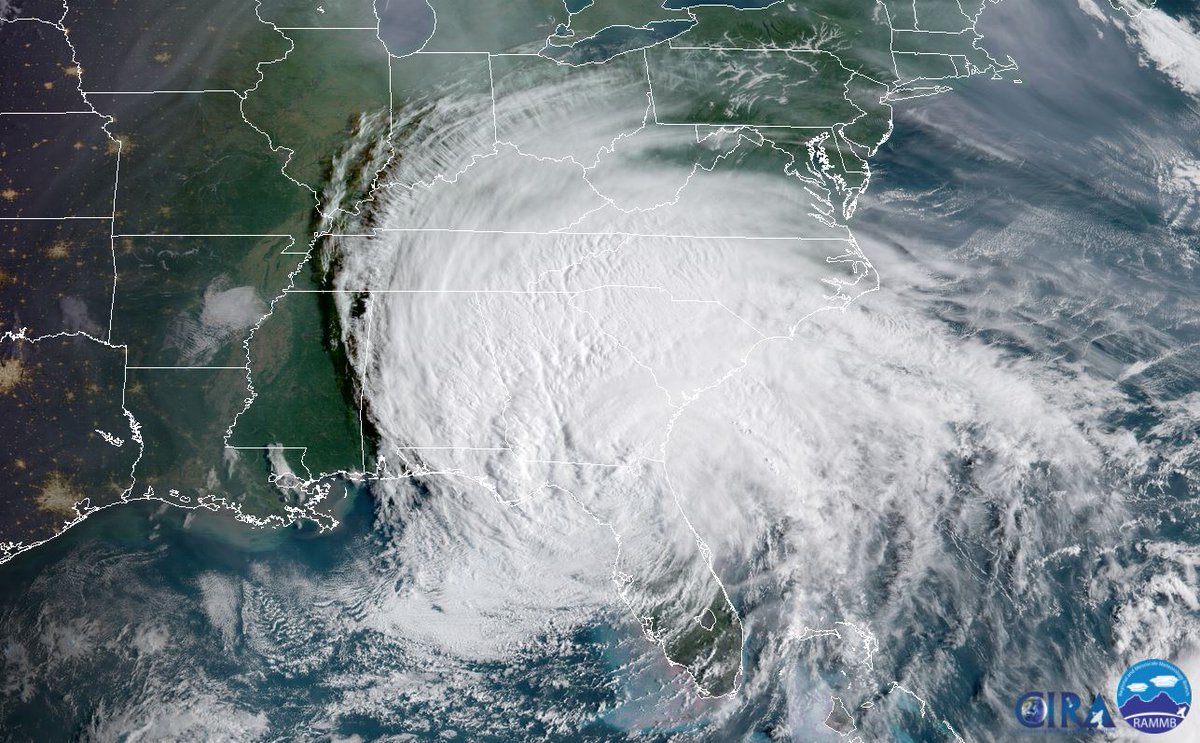 Irma caused one of the largest U.S. evacuations ever, with nearly 7 million people in the Southeast warned to evacuate, including 6.4 million in Florida alone. About 220,000 of those people have ended up in shelters.
More than 6.5 million homes and businesses across Florida lost power, and utility officials say it will take weeks to restore electricity to everyone.
President Trump approved a disaster declaration for Florida, opening the way for federal aid.
A tropical storm warning was issued for the first time ever in Atlanta, where many schools canceled classes because of the storm.
In parts of the Virgin Islands, Irma left close to total devastation.
In Havana, sea water submerged several blocks from the coast, leaving an entire neighborhood underwater, while the whole city was without electricity.
Cuban officials say at least 10 people were killed by the storm there. 
Irma was once the most powerful hurricane ever recorded in the open Atlantic, a Category 5 with a peak wind speed of 185 mph.
While the Florida Keys took a direct hit, and while the rest  of the state saw plenty of damage, Florida was shown some mercy with the winds somewhat diminished before landfall.