Global Lane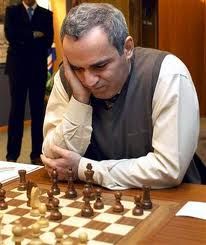 When we hear the name Garry Kasparov, most of us think of the brilliant world chess champion. But Kasparov is also a champion of human rights.
The New York based UN Watch is giving the Azerbaijani this year's Morris B. Abram Human Rights award. Abram founded UN Watch in 1993 -- a watchdog group that helps dissidents and human rights victims from around the world testify before the United Nations Human Rights Council.
Kasparov is a thorn in the side of Russian Preisdent Vladimir Putin. He's demanded Russian government adherence to international agreements and the country's constitution, which guarantee protection of civil and human rights. He retired from chess in 2005 and became more actively involved in the Russian pro-democracy movement.
Last year, Kasparov was elected to the Coordinating Council of the united opposition movement and also became chairman of the Human Rights Foundation in New York.
Russian police beat and jailed the chess champion last August for protesting the Putin government's arrest of the Pussy Riot musicians.
Kasparov has paid his dues; he deserves the Abram award. He's learned the hard way that human rights advocacy in Russia these days poses greater risks than a game of chess.
Watch this video of Kasparov's arrest August 17, 2012.