Global Lane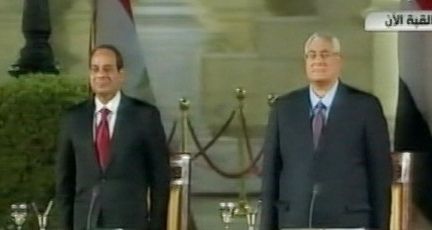 Egyptians held a big party in Cairo's Tahrir Square Sunday night to celebrate the swearing in of their new president, Abdel-Fattah el-Sissi.
Things got a bit out of hand, leading one television commentator to remark that, "Boys will be boys!" The problem is, some of the boys (mostly men) enjoyed the festivities by brutally assaulting and raping a female celebrant.
Bloodied, beaten, and barely conscious, the 19-year-old college student was rescued and rushed to the hospital where she reportedly remained in critical condition. Seven males were arrested immediately after the Tahrir attacks. Their ages ranged between 15 and 49.
The mob assault against this woman was reportedly one of five that occured in the Square Sunday night. Watch the edited version of a cell phone video showing the crowd gather as security police and some good Samaritans rescue the brutalized woman and carry her to an awaiting ambulance:
This was not the first time Egyptian women (and at least one non-Egyptian reporter) have experienced rape, sexual assault, and/or sexual harrassment during large gatherings in the heart of Cairo. But it was reportedly the first time police responded so quickly to arrest alleged attackers.
Various women's and human rights groups say young Egyptian women are often victims of such attacks because sexual harrassment is endemic in Egyptian society. Often the prevailing cultural response is what the television commentator stated: "boys will be boys" when they become overly excited and "happy," treating women this way is expected.
It makes you wonder what happens when they become angry.
The Egyptian government is taking some positive steps in the post-Muslim Brotherhood era. Just before el-Sissi was sworn in as president last week, Interim President Adly Mansour enacted a law that criminalizes sexual harrassment in Egypt.
Violators of the law--if convicted--will receive at least a year in prison, and a maximum fine of 20,000 Egyptian pounds. That's the equivalent of about $3,000. The punishment is worse for authority figures.
Pray that the brutalized 19-year-old colllege student will recover. Also, pray that Egypt's new government will enforce the law and do its best to convince Egytians that their society will prosper only when it demonstrates true respect for all of it's citizens.