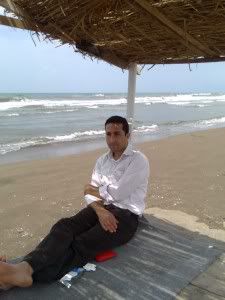 Present Truth Ministries is reporting that apostasy charges have been dropped against Pastor Youcef Nadarkhani.
That would suggest that Pastor Youcef's death sentence has been overturned. He is now reportedly charged with committing crimes against national security and will face a new trial beginning Sept. 8, 2012.
Though Pastor Youcef may have escaped execution--at least for now--he is likely to remain in prison for a long, long time.
This is more proof that the Iranian regime feels so threatened by this man (who has planted one of the fastest growing house churches in the country) that it wants to keep him locked away where he will be prevented from spreading the Gospel beyond the prison.
What they don't realize is that God will continue to find a way to reach Iranians for Christ with or without Youcef Nadarkhani--their efforts will not stop the good news from spreading throughout Iran.
Here's the full text received today from Jason DeMars and Present Truth Ministries:
We received some news that Russian Orthodox Church Patriarch Kirill wrote a letter to the Supreme Leader, Ayatollah Khameini, requesting the pardon of brother Youcef Nadarkhani. The leader of External-Church Affairs from Moscow, Metropolitan Hilarion said, "We are aware that Nadarkhani's life depends on the Iranian supreme leader, Ayatollah Khamenei, who is to pass the final verdict."
"Ayatollah Taskhiri [a leader from Iran] said in a reply, citing his sources, that the death sentence on the Iranian pastor had been overturned and assured Metropolitan Hilarion that after his return to Iran he would hand over the Russian Patriarch's request for the pastor's pardon to the office of the Iranian spiritual leader."
Our sources in Iran have informed us that Youcef has been officially notified of a new trial for crimes against national security in September. We assume by implication that this means the charges of apostasy have been dropped since the new charges have been issued, but we have no confirmation of that.
At this point we need to keep Youcef's case in the news Please publicize this information. Youcef has not committed any crimes against Iran's national security. He was the pastor of a network of house churches in Rasht and was not performing any political activities against the state. In fact, they pray for their country and its leaders.