Tribute to Sen. George McGovern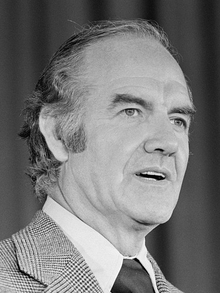 It is fitting that as our country approaches another presidential election, we remember a former presidential candidate--Sen. George McGovern who passed this weekend at the age of 90.
Agree or disagree with his liberalism, all Americans should join together to honor his service and contribution to American politics.
I campaigned for him in1972 because I believed he would end the Vietnam War.
I was close to draft age and had seen many young American men return from the war with drug addictiions and psychological troubles. Thousands never made it back home. I had plans for college and a career, so at the time I felt McGovern offered the best chance for me to continue to pursue my dreams uninterrupted by a mandatory trip to the jungles of SE Asia compliments of Uncle Sam.
Though I no longer shared McGovern's political beliefs as I grew older, I still admired and respected the influential Democrat. The son of a Methodist minister, he was a World War II hero.
I met the senator 20 years after that presidential campaign as we boarded an airplane at Washington National Airport. We chatted briefly, and I found him to be a kind and genuinely caring man. Though he had suffered perhaps the most humiliating defeat ever in a U.S. presidential election, (only winning the state of Massachusetts and the District of Colombia), he's left a lasting imprint on American politics.
We'll miss you Sen. McGovern!
Please join me in praying for his family-- and though we may respectfully disagree over his political positions, I'm sure most of us are thankful for his service to this great nation.