JERUSALEM, Israel – A somber siren wailed Tuesday evening to mark the beginning of Memorial Day in Israel.
The country came to a standstill for one minute to remember the country's 23,928 fallen soldiers and victims of terror attacks. Following the one-minute siren, there was a state ceremony at the Western Wall in Jerusalem.
 Speaking at the ceremony, President Reuven Rivlin thanked the country's soldiers and said their service and sacrifice must not be taken for granted.
"Today, the task of protecting the State of Israel is on your shoulders," he said. "Remember, without love of the homeland, dedication to mission, aiming for victory, comradeship, purpose, personal example and the purity of weapons, a free people will not be established here. The Israel Defense Force and the State of Israel, we, need you young, strong, united, united, united, determined to lend a hand, determined to continue to prevail, ready when necessary, to pay a price."
IDF Chief IDF chief Aviv Kochavi also spoke at the ceremony and said, "Out of a commitment to the current generation of soldiers and their families, we will do everything to only send them on worthy missions."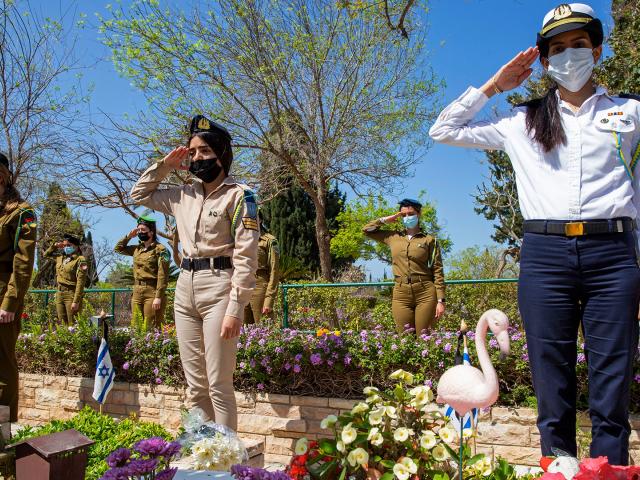 Israeli soldiers salute as they stand next to Israeli soldiers' graves. (AP Photo/Ariel Schalit)
Prime Minister Benjamin Netanyahu vowed to ensure the return of two Israeli civilians and the bodies of two IDF soldiers believed to be held hostage by Hamas in Gaza.
"This is a sacred mission that we're not letting go of," he said.
On Memorial Day in Israel, families typically gather at the graves of loved ones. At sundown on Wednesday, the country will transition from mourning to celebration, kicking off its 73rd Independence Day.
Why does Judaism matter and how is it connected to Christianity? Learn more here.
CBN Partners provide hope to those who are suffering! You can help bring hope today!
Bring Hope
God is everywhere—even in the news. That's why we view every news story through the lens of faith. We are committed to delivering quality independent Christian journalism you can trust. But it takes a lot of hard work, time, and money to do what we do. Help us continue to be a voice for truth in the media by supporting CBN News for as little as $1.