JERUSALEM, Israel – The hunt is still on for six Palestinian prisoners who escaped on Monday from Gilboa prison, one of Israel's most secure detention facilities located near the Sea of Galilee.
 
Israeli police set up roadblocks in the West Bank – biblical Judea and Samaria – and deployed drones, helicopters, and patrols in search of the men. 
 
Authorities said Tuesday evening they made no breakthrough in capturing the fugitives. However, Israeli media reported that police had arrested three individuals in the Arab town of Na'ura on suspicion that they helped the men escape the prison or flee the area shortly after. Authorities believe the fugitives may have stopped in the town and changed clothes after their escape, Haaretz reported.
 
Israeli police also suspect the prisoners may have split up to evade capture and may be armed.
 
The Israel Defense Forces beefed up troops along the Jordanian and Gaza border over fears the fugitives may try to sneak into the territories.
 
Israel's Army Radio said the prisoners escaped from Gilboa through a tunnel and have moved 400 prisoners as a protective measure against any additional escape attempts.
 
Israeli media reported several blunders by prison officials that contributed to the escape. For example, the prison's blueprint was available online, the watchtower guard was asleep during the entire incident, and prison officials missed signs of digging right under their noses.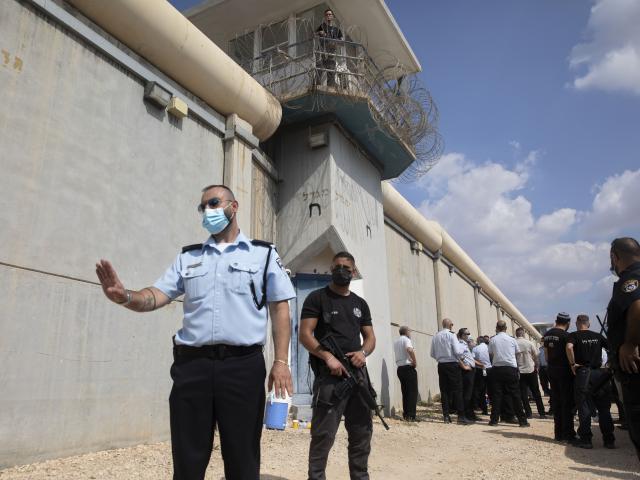 Police officers and prison guards inspect the scene of a prison escape outside the Gilboa prison in northern Israel, Monday, Sept. 6, 2021.(AP Photo/Sebastian Scheiner)
 
Public Security Minister Omer Barlev said extensive planning went into the escape and that the prisoners likely had "outside assistance."
 
The escapees may have arranged for a getaway vehicle and are believed to be headed for their hometown of Jenin, which is a 15-mile drive from the prison. 
 
The men are considered highly dangerous. Five of them are members of the Palestinian Islamic Jihad terror group, and four were serving life sentences for attacks against Israelis.
 
The Jenin area has largely become a no-go zone for Israeli and Palestinian Authority security forces. Palestinian Islamic Jihad sent its members there on Tuesday ahead of any potential raids by the IDF.
 
"If the IDF enters [Jenin] it will be met with significant firepower from many weapons and explosive devices," the group said at a Tuesday press conference in Jenin.
 
Palestinian Islamic Jihad also warned Israel not to retaliate against any of its members currently held in Israeli prisons. 
 
"Harming the prisoners is a red line, and the occupation must carefully consider what we say and realize that we are ready and able to protect our prisoners by all means," the terror group said in a statement.
 
"Every act of revenge on prisoners will bring the opening of the gates of hell against Israel in every place," it added.
 
Security officials are concerned the six fugitives may try to carry out an attack, but leading officials believe the probability of that happening is low. Barlev said he doesn't believe an attack is likely, "but I am not a prophet and we are taking all possibilities into consideration."
 
The escape is the biggest prison break of its kind in decades and came just hours before celebrations began in Israel for Rosh Hashanah – the Jewish New Year.
 
Palestinians consider prisoners held in Israel to be heroes, and many celebrated their escape. Palestinian Authority President Mahmoud Abbas' Fatah party praised the escape online.
 
The escape poses a dilemma for Abbas, who is already deeply unpopular among Palestinians. His government coordinates with Israel to target terror suspects in the West Bank, but any effort to help Israel capture the escaped prisoners risks further undermining the PA in the eyes of Palestinians.
 
Meanwhile, hundreds of Palestinian Islamic Jihad supporters rallied in Gaza, and the group sent incendiary balloons into Israel on Monday in support of the escaped prisoners. 
 
"This is a great heroic act, which will cause a severe shock to the Israeli security system," said Daoud Shehab, a spokesman for Islamic Jihad.
 
Israeli warplanes targeted a Hamas rocket manufacturing site and military compound in retaliation for the arson attacks.
***Please sign up for CBN Newsletters and download the CBN News app to ensure you keep receiving the latest news from a distinctly Christian perspective.***
God is everywhere—even in the news. That's why we view every news story through the lens of faith. We are committed to delivering quality independent Christian journalism you can trust. But it takes a lot of hard work, time, and money to do what we do. Help us continue to be a voice for truth in the media by supporting CBN News for as little as $1.