Nikki Haley Reflects More Christian Tone
Nikki Haley, the front runner to become the Republican nominee for Governor of South Carolina has recently changed the language on her website to reflect a more Christian tone. The Brody File is NOT questioning her Christian beliefs at all but rather how the emphasis of her religious language seems to have evolved throughout her political career.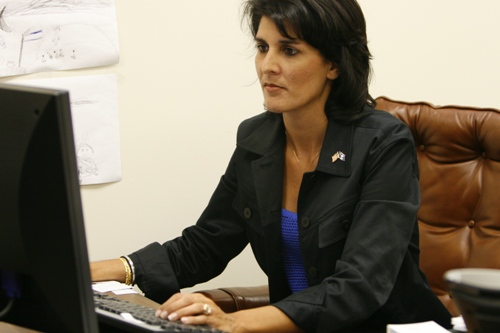 Haley was raised with the Sikh faith and just like President Obama has gone out of her way to make sure people know she is a Christian. Just like Obama in 2008, Haley has a "truth" section on her website to address the question, "Is Nikki Haley a Christian"? In April 2010, this is what the website said:
April 2010:
 
"Question: Is Nikki a Christian?
 
Truth: Nikki is a Christian. In her words: 'I believe in the power and grace of Almighty God. I know, and have truly experienced, that with Him all things are possible. I have looked to Him for leadership throughout my career and will continue to do so as governor.
 
This is what it says now:
June 2010
Question: Is Nikki a Christian?
 
Truth: In Nikki's words: "My faith in Christ has a profound impact on my daily life and I look to Him for guidance with every decision I make. God has blessed my family in so many ways and my faith in the Lord gives me great strength on a daily basis. Being a Christian is not about words, but about living for Christ every day."
 
We contacted the Haley campaign and asked them why the website language was changed. Spokesman Tim Pearson told The Brody File the following:
"We are constantly changing our website."
"Nikki is a proud Christian woman.  Like millions of others she found Christ early in her adult life and she has been dedicated to her Christian faith since the age of 24.  She, her husband, and their two children worship at one church - Mt. Horeb United Methodist Church in Lexington, South Carolina. "
Nikki Haley's had a whirlwind experience the last month or so. She is locked in a four-way battle for the Republican nomination for Governor of South Carolina. After being endorsed by Sarah Palin last month, her poll numbers skyrocketed but then came recent reports of alleged affairs. She has denied they ever happened and is blaming her opponents for peddling the stories and playing dirty politics. It has put Haley squarely in the national spotlight.
The fact that the Haley campaigned changed the wording on the website led The Brody File to do some digging. The Brody File has uncovered documents and details that show an emphasis on her Sikh faith and traditions in 2004 when she was running for the State Legislature (even though she became a Christian 7 years earlier).  Now that she's running for Governor of the state, mentions of her Sikh faith are virtually non-existent. A legitimate question must be asked: After seeing how the faith issue hurt Mitt Romney and damaged Barack Obama to some extent as well, is Haley making a political decision by playing up her Christian faith (just like Obama did) and LOSING the Sikh emphasis?
Haley was born in South Carolina as "Nikki Randhawa, the daughter of Indian Punjabi immigrants and was raised with the Sikh faith. (Read more about Sikhism here) Her conversion story begins in 1997. (You can listen to her discuss that here.
In 2004, (seven years after becoming a Christian) she and her family were still attending Sikh Temples as well as their Methodist Church. In 2004, she was running for the State Legislature and she was quoted back then as saying, "I was born and raised with the Sikh faith, my husband and I were married in the Methodist Church, our children have been baptized in the Methodist Church, and currently we attend both."
 
Her 2004 campaign played up her Sikh upbringing and faith saying that "Nikki was proudly raised with her Indian traditions" No mention that she's a Christian. See below. (And click on the picture for a larger view)
As a matter of fact, newspapers at the time trumpeted the fact that Haley was "The First Member Of The Sikh Religion To Join A State Legislature In The United States." One India newspaper wrote that, "She Did Not Hide The Fact That She Was Not A Christian And Regularly Attended Sikh Religious Services."? A project at Harvard University in 2006 refers to her as a, "Sikh woman."
When asked if Haley currently attends Sikh services, Haley's spokesman Tim Pearson tells The Brody File:
"She attends Sikh services once or twice a year in respect for her family."
"Like millions of others, she honors her mother and her father and has great respect for their faith and the way that she was raised.  Her faith in Christ guides her throughout her personal, professional, and public life, just as it has for many years."
 
The bottom line: Haley and the Sikh faith were an important part of her storyline…back in 2004. But today there are no Sikh references are on her website or campaign literature. And that website language has become more overtly Christian.
 When asked to specifically address why Sikh references were more overt in 2004 than in 2010, Pearson didn't provide us with an answer to that question.